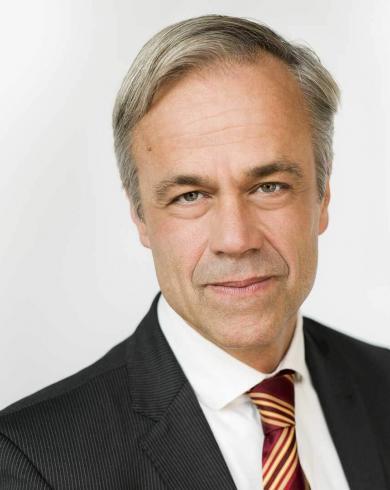 Adriaan de Buck
Adriaan de Buck is specialised in corporate law. He has wide-ranging experience in handling national and international mergers and acquisitions and in corporate-law litigation. Adriaan deals with many different kinds of cases for a variety of clients, from SME companies to private equity parties and multinationals.
Expertises
Many of the transactions Adriaan has helped with have been international in nature. For example, he represented a Danish concern in the acquisition of a packaging company and he assisted in the takeover of a group of crèches by an American buyer. Adriaan also regularly advises German and French clients on Dutch company law.
Clients and colleagues describe Adriaan as an accomplished lawyer and committed sparring partner. While willing to discuss the legal niceties, Adriaan never loses sight of the broad picture and his clients' commercial interests. Adriaan is able to appreciate the interests of all the parties involved in the case, which allows him to build bridges. He is hard on the content and soft on the person. His humour is an important factor in his success.
Adriaan also regularly conducts litigation. He defends the interests of his clients, for example in preliminary relief proceedings or in the Netherlands Enterprise Court. His experience with litigation means he is able to assess how the court will view contentious clauses in a takeover contract.
A transaction often involves multiple legal aspects, so Adriaan works with lawyers in various specialist fields to arrive at a deal. For instance, in due diligence projects he regularly engages specialists in employment law, tax matters and privacy. In acquisitions involving a German party, he works closely with his colleagues at the German Desk.
Experience and ancillary activities
Adriaan worked for years as a lawyer for leading law firms in the Netherlands and on Curaçao. He has taught corporate law at the University of the Dutch Antilles and regularly gives courses on legal practice for accountants and lawyers. Alongside his job, Adriaan is also chair of the general board of HBS Craeyenhout, the more than 125-year-old society for football, hockey and cricket in The Hague. He was also secretary of the supervisory board of the top-flight football club ADO Den Haag for several years. Adriaan is a certified tournament leader for the Dutch lawn tennis association KNLTB. Furthermore, he is a member of the audit committee of the Nederlandse Juristen Vereniging (Dutch lawyers' society).
Education
Adriaan obtained his degree in Dutch law in 1991 at Leiden University. He also took a number of optional courses at the Institut d'études politiques (Sciences Po) in Paris.